Sydney Diving & Underwater Services
Sea Service Diving and Marine conduct most of their salvage and recovery work of vessels, equipment and objects both large and small within the Sydney area directly as required and also as arranged through our associated affiliations.
Sea Service offers prompt economical response with environmental constraints in place throughout the recovery phase.
Sea Service utilises proven salvage and recovery techniques that enables us to conduct all salvage and recovery operations.
Underwater Bridge Surveys
Sea Service Diving and Marine can provide a complex underwater survey of all concrete, steel and cast iron bridges that enter waters across NSW. Sea Service are also capable of mobilisation interstate if required.
The analysis process involves initial cleaning of all pylons and pile caps via either hand scraping methods or high pressure cleaning, followed by a detailed underwater video survey with cctv footage displayed on the dive support vessel.
All inspection footage is recorded and paired with a comprehensive bridge survey report including integrated underwater photography.
Our Sydney team are on hand and available 24 hours a day, 7 days a week so that you can enjoy hassle free service for all your underwater commercial diving needs.
UNDERWATER SHIP HUSBANDRY
To achieve 100% hull efficiency as per the Naval Architects design assisted by propeller efficiency for a minimum of fuel burn, Sea Service Diving and Marine conducts all hull cleaning operations in strict accordance with the structured standards and requirements of the Environmental Protection Authority. The cleaning methods undertaken by Sea Service Diving and Marine does not release any anti-foul paint into the water and most importantly of all, the cleaning method does not interfere with the matrix of the anti-foul paint.
The objective of putting a diver down to carry out hull cleaning operations is to prolong the life of the anti-foul paint, not destroy it.
PROPELLER POLISHING & REPAIRS
Sea Service Diving and Marine specialise in propeller polishing and repairs. These works are carried out adhering to the guidelines and requirements of the Environmental Protection Authority and the Unites States Navy.
In an effort to achieve minimum fuel burn and 100% propeller efficiency with the assistance of a clean hull Sea Service Diving and Marine utilises modern techniques to achieve the propeller designer's requirements for the surface finish of the propeller. The techniques employed have had proven results in reducing the fuel burn on both recreational and commercial vessels of all sizes. Sea Service will also make note of any chips and folds found on your propellers whilst conducting a thorough clean. Our divers are trained in correcting any imperfections and can also offer photography and a full comprehensive propeller report for your convenience.
UNDERWATER HIGH PRESSURE CLEANING
Sea Service Diving and Marine are equipped with a high variable pressure gurney capable of removing dense fouling, scale and even rust from underwater marine installations. When considering quite a solid surface such as steel or concrete this method is far more effective at quickly removing unwanted growth, particularly important when considering an inspection.
Examples of some installations commonly requested for a clean include
Air-con Intakes and Pipeline outlets
Large Commercial Vessels
Pylons and large anodes
Marina securing installations
Sea Service Diving and Marine offer a complete range of underwater cutting and welding procedures. Our policy of employing tradesman divers means that only qualified metal fabricators / First class welders are used to carry out significant welding and cutting projects both underwater and off site.
Underwater welding is a safe, reliable and cost effective technique for temporary, repair and construction. Underwater-welding for marine maintenance and repair jobs bypasses the need to pull the structure out of the sea and saves valuable time and dry docking costs.
Jobs may include:
Ships hulls and coffer dam installation
Anode replacements
Pipelines
Numerous other underwater structures
Underwater Commercial & Construction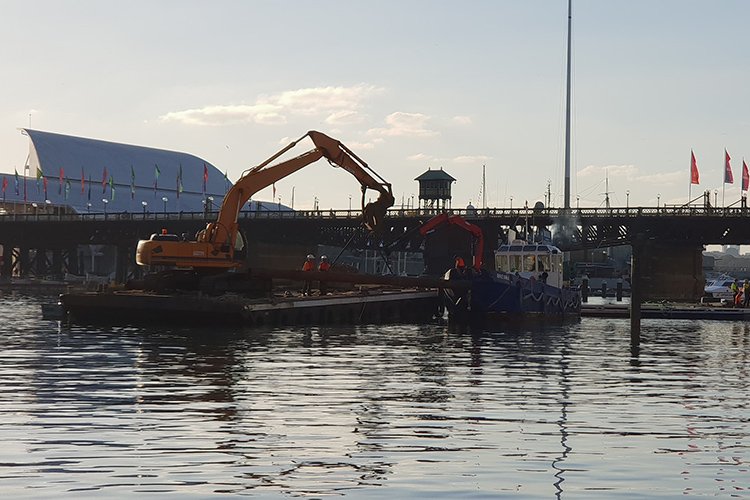 Sea Service Diving and Marine offer a broad range of expertise for all types of marine based construction projects in Sydney. Sea Service has worked in close affiliation with several marine wharf and bridge contractors to complete many large-scale civil contracts.
Sea Service Diving and Marine also works closely with Sydney City Marine to assist with Ship-lifting of vessels both large and small.
Most recently, we installed temporary steel piles for the Sydney Boat Show with Australian Wharf and Bridge Contractors.
Get in touch with Sea Service Diving & Marine
Our Sydney Diving Experts will help assist with your private, commercial or government needs with our free 100% no obligation quote.
Diving Services is Our Speciality
Sea Service Diving and Marine Pty. Ltd. was formed in Sydney in 2002 after 35 years of general commercial diving work, believing that there was a need for a specialised service delivery in the field of UnderWater Ship Husbandry.
At humble beginnings the focused and goal oriented company has grown into a reliable professional service delivery provider catering to a diverse field of customers.
Sea Service Diving and Marine's Commercial Divers bring with them the capability of whilst being hands on the job, can if necessary think outside of the square, displaying a 'CAN DO' approach in achieving efficient and satisfactory customer expectations.
We offer a vast range of commercial diving services including Underwater Ship Husbandry, High Pressure Cleaning, Inspections & Surveys, Salvages, as well as Underwater Civil Work.