Latest Sydney Underwater Surveys
Ensuring the safety and ongoing maintenance of community infrastructure, Sea Service Diving and Marine can provide a complex underwater survey of any bridge that enters waters across NSW, vessels and marine instalations.
Sea Service are also capable of mobilisation interstate for inspection survey work if required.
Below is an overview of our ongoing NSW bridge survey work with DM Roads and NSW Roads and Maritime.
Underwater bridge surveys, NSW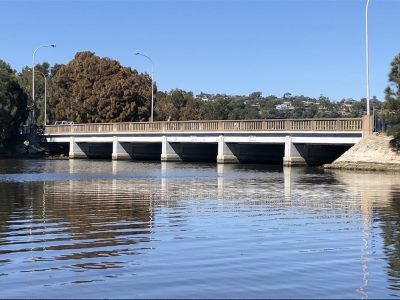 Sea Service Diving and Marine are currently appointed as the lead dive team to assist DM Roads, Sydney's leading road network management provider, in the analysis of all concrete, steel and cast iron bridges that enter waters across NSW; a project overseen by NSW Roads and Maritime.
As a part of the inspection process, the Sea Service team perform an initial clean of all pylons and pile caps via either hand scraping methods or high pressure cleaning. Once the bridge has been professionally cleaned, our senior dive team conducts a detailed underwater video survey of all pylons and pile caps, carefully collecting additional measurement photos of any cracks or concrete spalling detected.
All cctv inspection footage is displayed on the dive support vessel at the time of survey and is recorded. The recorded survey is then provided to our client accompanied by a comprehensive bridge survey report, inclusive of the underwater photography. Repair works, if required, are then conducted on the bridge, which Sea Service Diving and Marine are available to assist with.
Just some of the major bridges surveyed recently include:
Spit Bridge
North and South Ryde Bridge
Windsor Bridge
all bridges within the Narrabeen Lakes
Manly Lagoon Bridge
Gladesville Bridge
Tartan Creek Bridge
Fullers Road Bridge and more.
Get in touch with Sea Service Diving & Marine
Our Sydney Diving Experts will help assist with your private, commercial or government needs with our free 100% no obligation quote.
Our Sydney team are on hand and available 24 hours a day, 7 days a week so that you can enjoy hassle free service for all your underwater commercial diving needs.